PaintCare's Bay-Area public art project to get Californians to recycle household paint continues as the second of three murals is now up!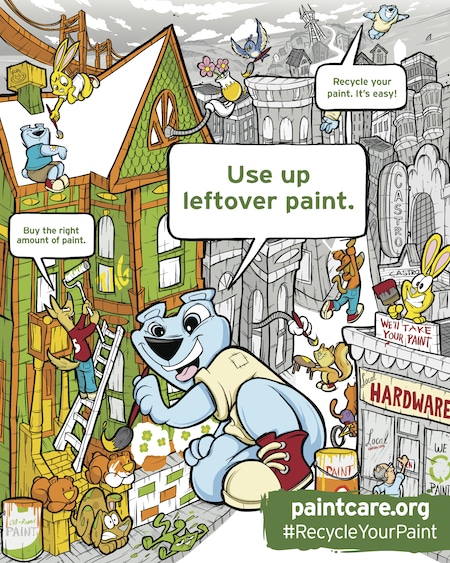 While the first mural communicated that you should buy just enough paint to add color to your world, the second installation features Bay-Area artist Sirron Norris' same loveable characters demonstrating creative ways of using up leftover paint with fun, do-it-yourself projects — adding splashes of color and breathing new life into everyday household objects.
All of the paint for this project is from San Francisco's household hazardous waste facility at Recology San Francisco, the operator of the waste transfer station and recycling center. The facility is one of 19 places in San Francisco that accept most types of paint, stain, and varnish from the public. As part of a contract between PaintCare and the Department of the Environment (City & County of San Francisco), the facility also remixes thousands of gallons of paint to give away to the public for free each year.
Using recycled materials for public art projects is an innovative way to engage the public and generate excitement around art and recycling. The Artist in Residence Program at Recology has been doing this for 25 years. Artists who are in residence are required to gather all of their materials from our public disposal area, and all paint is recovered from the Household Hazardous Waste Facility.
"We were excited to donate the paint for Sirron's mural," said Deborah Munk, Manager of the Artist in Residence Program at Recology San Francisco. "We believe public art projects that use recycled materials can communicate a message to a large audience and positively impact a community."
The "Use it Up" mural adds additional layers of perspective with friends and neighbors painting flower pots, brick walls, and cleaning graffiti and will be up at the corner of Market and Octavia Streets (near the entrance to Highway 101) in San Francisco until August 10th. Each mural is a visual demonstration of each of PaintCare's key messages: "Buy right. Use it up. Recycle the Rest."