Only unspoiled house paint can be used or recycled. In cold climates, where freezing and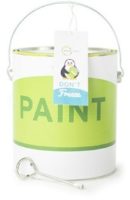 thawing can make paint unusable, keep paint indoors where it is warm so that it doesn't freeze.
If you don't have plans to use up your leftover house paint, why not recycle it now?  There are PaintCare drop-ficiaf locations all over Minnesota where households and businesses can recycle unwanted paint, stain and varnish for free.  Find a drop-off location.
Have 200+ gallons (containers, not volume) of leftover house paint?  Learn about our free large volume pick-up service.