For general PaintCare inquires, call (855)PAINT09 or email info@paint.org.
New York paint stewardship law enacted December 16, 2019
Program expected to launch May 1, 2022
Read the Paint Purchasers Fact Sheet for a program overview
It will soon be more convenient than ever to recycle paint in New York. Once the New York paint stewardship program officially launches, PaintCare will offer drop-off sites throughout the state where the public can take unwanted paint for recycling.These sites will be available to households, businesses, government agencies, and others with leftover paint in New York.
New York Household Hazardous Waste (HHW) Webinars
HHW programs in New York are encouraged to view our webinars about the upcoming PaintCare program:
PaintCare Contracting 101 for Government-Staffed HHW Programs
This webinar is designed for HHW programs that use their own local government staff for collecting paint at their HHW sites and/or events. PaintCare provided an overview of the contracting process with a focus on important liability concepts in the PaintCare contract, such as indemnification and insurance. PaintCare also discussed its approach for partnering with the local government's preferred HHW service provider to pick up paint from the HHW program's sites and events. Click here to view the webinar.
PaintCare Contracting 101 for HHW Programs Operated by Third-Party Service Providers
During the webinar, PaintCare provided an overview of the contracting process for situations where a local government HHW program has contracted its operations to a private operator and addressed what is needed from contracted operators to allow their local government customers to take advantage of the PaintCare program. PaintCare also outlined its requirements for entering into a waste hauling/processing relationship with PaintCare, which is often of interest to private operators/haulers whose local government customers wish to participate in the PaintCare program. Click here to view the webinar.

Manufacturers
Paint manufacturers that sell paint directly or indirectly in a PaintCare state are required by each state's paint stewardship law to register their company and brands with PaintCare. Pre-registration is now available for New York. Visit our Manufacturers page to learn more and register.

Visit our PaintCare Products page for
more information on accepted products.
Fee and Funding
PaintCare programs are funded by a fee (referred to as the PaintCare fee) which is applied to the purchase price of new paint sold in the state. There is no charge for dropping off paint at a PaintCare drop-off site. The PaintCare fee is not a tax or a deposit. The fee funds all aspects of the paint stewardship program. For more information on the fee, visit the PaintCare Fee Page.
PaintCare proposed the following fee structure for New York as part of its program plan, submitted to the New York Department of Environmental Conservation (DEC). DEC is expected to complete its review of the proposed fees in January 2022.
Pending approval, the fee in New York will be based on container size as follows:
$0.00

$0.45

Larger than half pint up to smaller than 1 gallon
$0.95

$1.95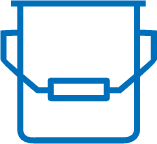 Larger than 2 gallons up to 5 gallons