For general PaintCare inquires, call (855)PAINT09 or email info@paint.org.

Manufacturers
Paint manufacturers that sell paint directly or indirectly in a PaintCare state are required by each state's paint stewardship law to register their company and brands with PaintCare. Pre-registration is now available for New York. Visit our Manufacturers page to learn more and register.

Visit our PaintCare Products page for
more information on accepted products.
Fee and Funding
PaintCare programs are funded by a fee (referred to as the PaintCare fee) which is applied to the purchase price of new paint sold in the state. There is no charge for dropping off paint at a PaintCare drop-off site. The PaintCare fee is not a tax or a deposit. The fee funds all aspects of the paint stewardship program. For more information on the fee, visit the PaintCare Fee Page.
Although fees for New York have not yet been determined, they are expected to be similar to other states with a PaintCare program. The fees are based on container size and vary across the programs:
$0.35–$0.49

Small containers (e.g., pints & quarts)
$0.75–$0.99

Mid-size containers (e.g., 1-2 gallons)
$1.60–$1.99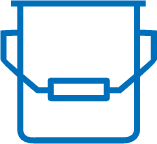 Larger sizes up to 5 gallons