Close
California Staff
Daria Kent
Northern California Senior
Program Coordinator
(530) 559-3274
dkent@paint.org
Butte
Colusa
Del Norte
El Dodrado (West)
Glenn
Humboldt
Lake
Lassen
Marin
Mendocino
Modoc
Napa
Nevada (West)
Placer (West)
Plumas
Sacramento
Shasta
Sierra
Siskiyou
Solano
Sonoma
Sutter
Tehama
Trinity
Yolo
Yuba
Terri Ryan
Central California Senior Program Coordinator
(209) 404-8625
tryan@paint.org
Alameda
Contra Costa
Monterey
San Benito
San Joaquin
Santa Clara
Santa Cruz
San Joaquin
Nichole Dorr
California Program Manager
(530) 446-4017
ndorr@paint.org
Alpine
Amador
Calaveras
El Dorado (East)
Fresno
Kings
Maderna
Mariposa
Merced
Nevada (East)
Placer (East)
San Francisco
San Mateo
Stanislaus
Tuolumne
Tulare
For general PaintCare inquires, call (855)PAINT09 or email info@paint.org.
Established in October 2012
838 year-round drop-off sites
30.7 million gallons collected
PaintCare offers drop-off sites throughout California where the public can take unwanted paint for recycling. These sites are available to households, businesses, government agencies, and others with leftover paint.

Enter your zip code, city and state, or street address to find the nearest, most convenient paint drop-off site to you. All PaintCare sites accept up to 5 gallons per visit (some take more). Please call ahead to confirm business hours and ask if they can accept the type and amount of paint you would like to recycle. Sites do not accept aerosols (spray paint), leaking, unlabeled, or empty containers.
accepts up to 5 gallons
accepts up to 10-20 gal.
accepts up to 100 gal.
HHW Programs (accepts other items)

Also has Reuse Program
Paint Drop-off and
Giveaway Events
for Households & Businesses

Visit our PaintCare Products page for
more information on accepted products.
Fee and Funding
PaintCare programs are funded by a fee (referred to as the PaintCare fee) which is applied to the purchase price of new paint sold in the state. There is no charge for dropping off paint at a PaintCare drop-off site. The PaintCare fee is not a tax or a deposit. The fee funds all aspects of the paint stewardship program. For more information on the fee, visit the PaintCare Fee Page.
The fee in California is based on container size as follows:
$0.00

$0.35

Larger than half pint up to smaller than 1 gallon
$0.75

$1.60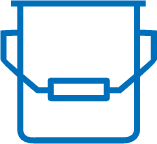 Larger than 1 gallon up to 5 gallons
On October 31, 2021, a proposal for a fee reduction was submitted to California Department of Resources Recycling and Recovery (CalRecycle) as part of a proposed revision to PaintCare's program plan for the California paint stewardship program. The program plan and fee change were approved by CalRecycle on January 24, 2022. The fee reduction will take effect on July 1, 2022.
The proposed fee in California is based on container size as follows:
$0.00

$0.30

Larger than half pint up to smaller than 1 gallon
$0.65

$1.50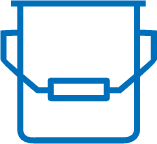 Larger than 2 gallons up to 5 gallons