Large-Volume Pickup (LVP) Service
If you have a large amount of unwanted paint (300+ gallons), PaintCare offers a free service that benefits both you and our volunteer drop-off sites — you don't have to take your paint to a drop-off site a little at a time, and they don't get overwhelmed with large volumes of paint. This service is only available to households or businesses with at least 300 gallons of paint. To learn more, please review the fact sheet provided below. Then call PaintCare — or fill out and submit the LVP Request Form — to request an appointment.
Please use our online form to request a pickup:
You can also use the Excel or PDF versions of the form and send by email or fax.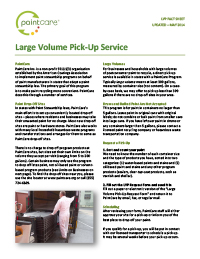 LVP Service Fact Sheet
Find out how the service works.
LVP Fact Sheet
Also in Spanish
Have only a few gallons of leftover paint? Find a PaintCare drop-off location. PaintCare sites accept at least 5 gallons per visit (some take more). Visit our site locator tool to find a location near you.