Got a minute? After using our site locator, help us improve our site search tool by taking a
Use the PaintCare Site Locator to find a place to drop off your leftover paint.
If you are using this tool on a mobile device please turn your phone sideways to see the search button.
HHW Programs
(accepts other items)
California, Colorado, Connecticut, Maine, Minnesota, Oregon, Rhode Island and Vermont: Use this tool to find PaintCare-sponsored drop-off sites including retailers, transfer stations and household hazardous waste programs that are working with PaintCare.
Do you have 300 gallons or more? You may qualify to have large volumes of paint picked up for free. If you are interested in having your paint picked up, please visit our pickup service page to learn more about the service and how to request a pick up.
Other States: This tool finds household hazardous waste programs and other places throughout the United States that accept leftover paint from the public.
IMPORTANT: Before bringing your paint to any drop-off site, be sure to call to check business hours and to make sure they can accept the types and amount of paint you would like to recycle.
Got a minute?
After using our site locator, help us improve our site search tool by taking our short survey (only six questions).
PaintCare States
In PaintCare States (those with Paint Stewardship Programs) the PaintCare Site Locator lists all of the retailers who have signed up with PaintCare to accept leftover paint from the public. It also lists most of the household hazardous waste programs if they have partnered with PaintCare. Use this tool to find the nearest, most convenient site to you. All PaintCare drop-off sites accept at least 5 gallons of paint per visit. Some participating retailers will accept more than 5 gallons. It's recommended to call any drop-off location before bringing in paint to make sure they can accept the amount of paint you would like to drop-off.
Non-PaintCare States
PaintCare developed this tool to help the general public in other states too. Our tool is a comprehensive listing of locations throughout the United States that accept leftover paint from the public. If you work for a government-sponsored household hazardous waste program or any other organization that accepts paint from households and/or businesses, we've probably contacted you already and added you to our database. If not, please contact us and we will be happy to add your information.
Submit an Update
Please email Carol Darrow at updates@paintcare.org or call (855) PAINT-09 to update any information about your organization or facility.
Report a Problem
We would appreciate hearing from you if you experience a problem with PaintCare Site Locator. Please contact Paul Fresina at pfresina@paint.org.
Mobile App
Enter "PaintCare" in the Apple store or Google Play and download our mobile app for iPhone or Android. It works just like the search tool on our website.
Products We Accept
PaintCare sites accept house paint and primers, stains, sealers, and clear coatings (e.g., shellac and varnish) but we do not accept aerosols (spray cans), solvents, and products intended for industrial or non-architectural use. The products we accept are referred to as "PaintCare Products" or "architectural paint" and they must be in containers that are no larger than 5 gallons in size. Paint must be in its original container and the container must have a label and a secured lid. We cannot accept open or leaking cans. Please review the following detailed list to find out what can be accepted, prior to dropping off your paint.
When you've run out of ways to use up your leftover paint, recycle it with PaintCare.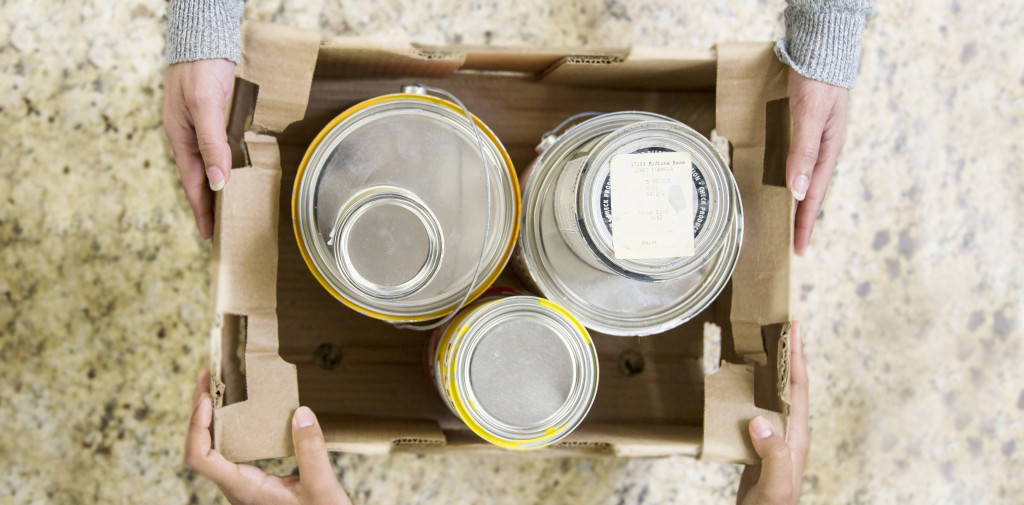 How to recycle your paint
PaintCare makes recycling your leftover paint almost as easy as buying new paint. In PaintCare states we've set up convenient locations where you can take unwanted paint for reuse or recycling. All PaintCare sites take back all brands (not just the brands they sell) of acceptable house paint, stains and varnish during their regular business hours. PaintCare sites that are paint stores accept paint from anyone in their state. Solid waste transfer stations and household hazardous waste programs only accept paint from those who qualify to use their facilities – usually households of their town, city or county. To use any PaintCare site, prepare your unwanted paint, stains, and other acceptable program products by making sure the lids are secured tightly, no containers are leaking, and they have original labels and in their original containers. Please do not mix paints together. Please do not bring empty paint cans; they can be disposed of in your regular trash or possibly in your recycling bins, depending on the services offered in your area. Recycling programs around the country are different, so be sure to ask your recycling service if they allow empty, dry paint cans in your recycling bins before you put them in your recycling bins. If they are not allowed, put them in your trash. Pack your paint cans in a sturdy cardboard box in your vehicle and take them to a PaintCare drop-off site during their advertised regular hours. PaintCare sites have limits on how much paint they can accept, but they all take at least 5 gallons of paint per visit; some sites take more. It's always best to call the site before bringing your paint to ask if they have enough space to accept the amount of paint you would like to recycle.
What happens to the paint?
All states except California consider latex paint to be non-hazardous. Because of this, many government agencies suggest that households and businesses dry out unwanted latex paint and/or mix it with kitty litter and discard the dried paint in the trash. Drying out paint takes space and time and most people would rather take their paint to a drop-off site than spend the time and effort to dry it out. In PaintCare states, drying out latex paint is not necessary and undesirable. Paint is a valuable resource that can be recycled in most cases. When you take paint to a PaintCare location, we will make sure that the paint you drop off is recycled to the maximum extent possible. Some paint (about 2%) is redistributed by household hazardous waste programs and retailers that sell salvaged building materials, such as Habitat for Humanity ReStores. PaintCare supports redistributing leftover paint; it's the "highest, best use" for usable paint. When it is not redistributed, latex paint is usually sorted by color, filtered, and mixed or blended together, sometimes with other virgin ingredients, to make recycled-content paint. Latex paint that is unsuitable for reblending can often be used for other purposes. Some becomes an additive in other products or dried and made into landscaping material. Very little latex paint is landfilled and only when other options are not feasible. Oil-based paint is almost always sent to a cement kiln (plants that manufacture cement) for energy recovery, because cement kilns use a lot of fuel. Using oil-based paint as a fuel at cement kilns saves energy ─ less virgin fuel is needed to operate the kiln to produce the energy needed to make cement. Using paint as a fuel is the most environmentally-responsible use available for unwanted oil-based paint.
What should you do with empty paint cans?
PaintCare drop-off sites do not accept empty paint cans. Depending on where you live, you may be able to recycle empty paint cans in your curbside recycling program. If not, they should be disposed of in the trash. It's important to check with your local recycling or trash services to see what is allowed. In most places, putting any liquids in the trash or recycling bins is prohibited. So, any cans you recycle or dispose of must be truly empty, and the lid should be removed so that trash collectors can see that they are empty.